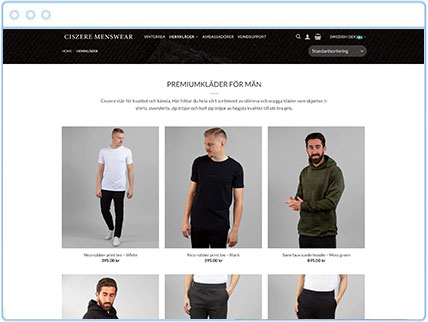 Ciszere.com is a digital fashion brand with sales all over the world.
Templ plan

Large

Traffic

1000+/day

Languages

2

Currencies

4
Ciszere was founded in 2013 by four students, as a way of making extra money. After a few years in business, they realized the potential and decided to go all in.
Ciszere came in contact with Templ in 2018. They wanted to speed up the website and get assistance with technical aspects of the site, which was something their former web host wasn't able to offer. In fact, they were hard to get hold of at all.
"In order to further develop our website, we needed a reliable partner who understood what we were doing, and that had great expertise in hosting and e-commerce. We do not work with a web agency or have our own IT department, which means that we need a partner who is committed and can help us with problems that we ourselves can not handle internally. When Templ offered a trial period, I immediately got the feeling that they stood out in the crowd, and since then we've never looked back." says Johan Forsberg at Ciszere.
Speed optimizations
In conjunction with the migration of the site, Templ made a number of optimizations to improve the website's load time:
Installation and configuration of WP-rocket
Migrating to the latest PHP version
Installation of Brotli
Image optimization
Installation and configuration of AssetCleanup
Upon completion of these optimizations the website loaded on impressive 792 ms, and the checkout page was faster than previously.

Consulting
Since the change of hosting service, Ciszere has stepped up their efforts internationally, and Templ has, among other things, helped to implement a language popup and changed the main domain to .com.
Johan elaborates on his thoughts about Templ's service: "Templ has changed what it means to be a web hosting service, and they do it very well. They engage with us as a customer and offer world-class customer service. Their expertise in the field allows us to bounce ideas and solutions to any problems that arise. They take an active interest in our business and work proactively to help us grow."
Templ's support is world-class, it's without a doubt one of the best customer services I have ever come across.
Black Week
A lot of Ciszere's sales take place during Black Week, and to maximize sales it's important that the website performs well also at high traffic spikes. Therefore, Templ estimates how much resources the website needs prior to each campaign. Support is available on late evenings and weekends to ensure that the website is not overloaded and always performs as promised.
"The people at Templ are young, hungry, and innovative, which suits our organization perfectly. Everyone who runs an online shop should contact Templ and give them a try, I promise you will not regret it! " Johan concludes.