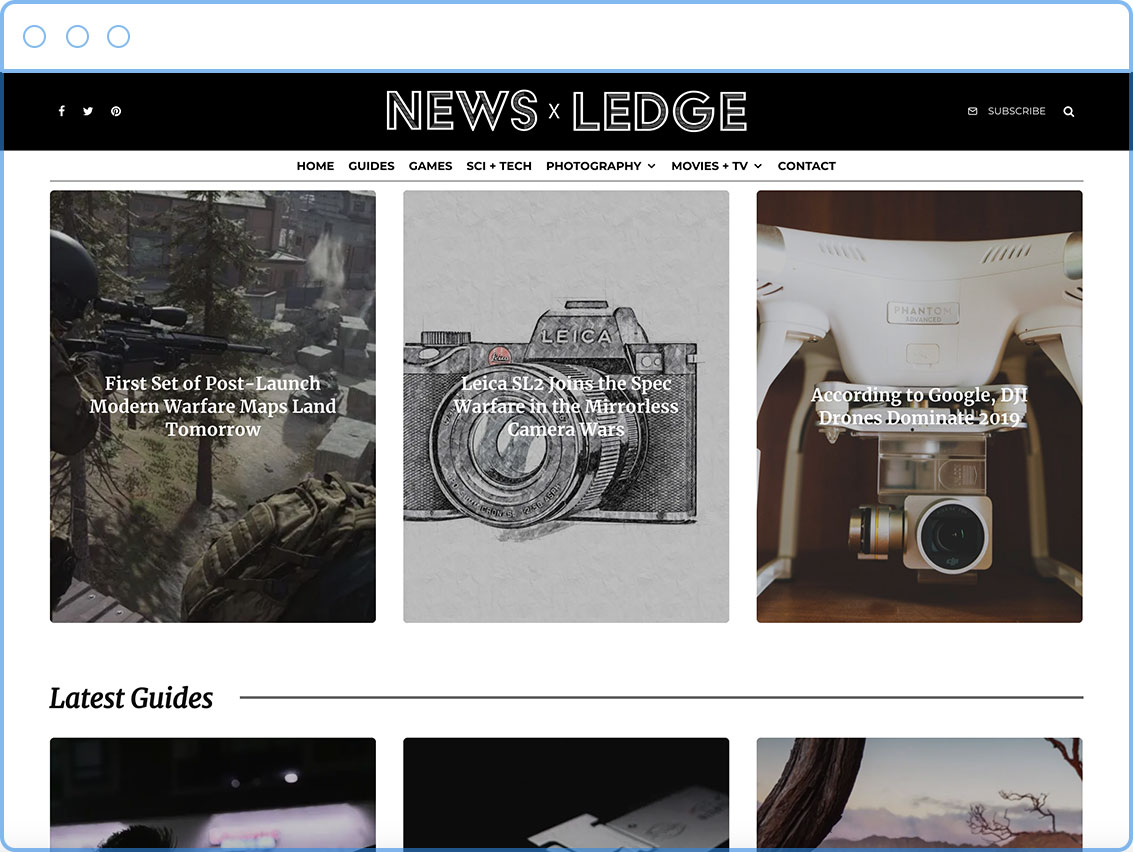 Newsledge.com is an American news site created by the brothers Alex and Marcus Chavers.
Just like many other news sites, News Ledge publishes a large amount of articles and images, which requires a reliable host that delivers fast load times, maximum uptime, and knowledgable support. Marcus explains: "As a news publisher, speed is everything. Google uses it as a ranking factor, so it's a must. And hosting on Google's own hardware is a huge benefit.
Punished for their success
Newsledge got in touch with Templ after repeated frustration with other hosting companies, among them a large international hosting solution that also is based on Google Cloud. They all claimed to be the best in Managed WordPress hosting, but would charge for support, as soon as they had a chance.
We've been through who's who of managed WordPress companies, including multiple GCP powered hosts. All promised the best in managed WordPress hosting, but each fell short in certain areas.
A frequent problem was that they were punished for their success, as most hosts base their pricing on traffic. "Alex and I have essentially used every top tier hosting provider out there before moving to Templ. Some charged by visits that effectively penalize success and the metric is extremely opaque. 100,000 visitors or more per month sounds like a lot until you try to figure out how certain companies arrive at their monthly numbers." explains Marcus.
Not only is Templ reliable on managing our WordPress install, we know if Google has an outage, there is an army of techs fixing the issue. That alone is a massive plus of using Google Cloud Platform. It's Google's backbone, so chronic outages we have faced in the past at other companies simply do not happen at Templ.
The web hosts that offered support that lived up to term "managed", proved very expensive and often charged up to $1000 monthly for a plan similar to Templ's Large plan ($149 per month). "Other companies charged literally for everything while claiming to be managed. It just didn't live up to what we were paying monthly to be told to check the knowledgebase or Google it. Everyone at Templ goes above and beyond to be not only proactive, but I'd argue outside the scope of what you really have to do. Plus, hopping on live chat is always fun with Templ, always cracking jokes. The personal touch means we aren't just a number like with other hosts." explains Marcus
Faster load times with Templ
After migrating the site to Templ, News Ledge noticed a significant increase of speed compared with the previous host. And since Alex and Marcus have very high ambitions Templ initiated work to further improve the load time. During the first couple of months, Templ performed the following:
Activation of CDN
Activation of Quic
Activate of Brotli
Installation of Redis
Upgrade to PHP7.3
Installation of the Templ server cache and configuration of WP Rocket
Installation of Asset Cleanup
"The loading time is now blazing fast. What's great about Templ is that they are willing to add cutting edge technology like QUIC, before it becomes a standard in hosting circles. They also helped us with setting up webp images to improve our Google Pagespeed score. Then there's the GCP hardware. Hosting on Google's backbone has its benefits, and speed is definitely one of them." explains Marcus.
My initial impression was great. Everything was beyond simple. I turned over the logins, and you guys handled everything. If I would mention 1 specific reason for staying, it would be I don't have to worry about the server at all.
Another challenge was to clean the disk space from unnecessary images. Templ removed over 17 GB and generated new thumbnails with WP-CLI, which made 10 GB disk available.
For any news site it's important with high resolution of images, with small file size, to not slow the site down. Templ configured the plugins WebP Convert and Nginx, which let images convert on server level and made into the format WebP.
Templ has all along had a great partnership with Newsledge and enjoys ambitious customer with high requirements. "To daily meet new challenges is not only making our service better, it's also more satisfying. We learn new things everyday and stay up to date with the latest in hosting and tech" says Templ's Customer Success Manager Oskar Teleman Andersson.
I deal with a rare health condition that involves me basically being out of communication for days or weeks at a time. Templ steps in and handles things that make life that much easier while I deal with personal matters. That's huge.
Marcus highly recommends other to migrate to Templ. He explains: "First, there's not a better group of people running a managed WordPress hosting company. Trust me, we've used them all, and we'll never move again. That reason alone is enough to recommend Templ to anyone looking for the best hosting environment. Second is speed. The hardware, coupled with Templ's software stack, is simply without equal. Third is the price to value. Yeah, it's not the terrible free hosting with a domain purchase. Our websites are our business. Treat it as such, and the plans start at $29. Personally, I'd start with the $79 plan for a small business to get plenty of RAM and a CPU core. It's better to have extra in the tank than trying to maximize the bare minimum specs. Templ can do it for you, but be proactive and help them help you. "