We hope that by using this guide, you will be able make your choice between these two platforms. Among other things, we will go through the differences between WordPress and Wix, their degree of difficulty, and their price.
In May 2020 WordPress was used by 436 million websites, compared to Wix which in Mars 2020 was used by 3.8 million websites. Using aggressive marketing Wix is growing rapidly and there is a reason for you being here, and why you are considering using their platform for your website. Let us find out if their tool is the right choice for you, or if you should go with WordPress.
What's the difference between WordPress and Wix?
WordPress is a tool that offers almost endless possibilities. Anyone is welcome to create new functions for their platform, and as a user, you can customize your website any way you'd like. WordPress is a user-friendly platform. But to be able to take advantage of everything being offered, a little bit of knowledge and time is required from the user. However, if you like to create things and enjoy a challenge, you shouldn't be worried about WordPress difficulty level.
Wix is an all-inclusive solution that includes more kinds of services in its platform, like hosting, domain registrar, and e-mail. At Wix, you can take part in design templates and apps, and also have access to support. Another convenience is that Wix is very user-friendly and doesn't require any prior knowledge. Two clear disadvantages with the platform are that they, unlike WordPress, will debit you a monthly fee and that your options are fewer.
Difficulty level
The level of difficulty for the two platforms differs slightly, although both may be considered very user-friendly. You can with both platforms use so-called site builders to design your website, which is a comfortable solution if you don't have any prior knowledge in programming. If you would like to add extra functionality you can in WordPress install one of their 55 000+ plugins and in Wix one of their 300+ apps.
What makes the difficulty level slightly higher in WordPrewss is that their software, plugins, and themes not always are 100 % compatible. This is simply because there are several creators behind their plugins and themes, which can be compared to Wix, who have to approve anyone that wants to contribute.
Are you facing a challenge with your WordPress-website will you nevertheless have access to a great community, and you can among other things, ask for help in different Facebook groups. If you go to Facebook now and search for "WordPress + your country" you will most likely find a local WordPress group you can join.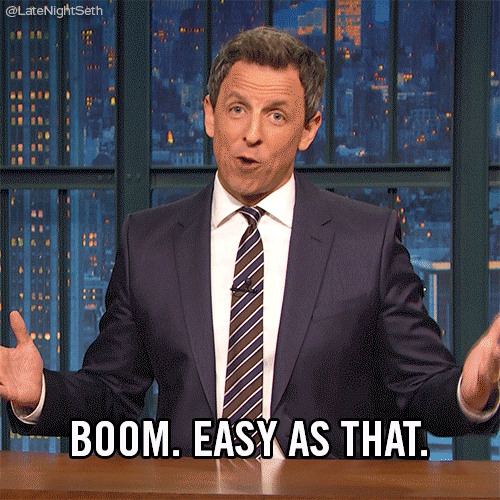 Cost
One of the biggest differences between WordPress and Wix is that Wix costs money. They offer four plans where pricing starts at 4.5 EUR per month. Their cheapest plan is very thin though, and should only be considered if you're running a small blog.
Are you planning on creating a website you should at least consider the plan "Combo" or the plan "Unlimited", which cost 8.50 EUR and 12.50 EUR.
Wix also offers three e-commerce plans, but we're not gonna dig into those in this article.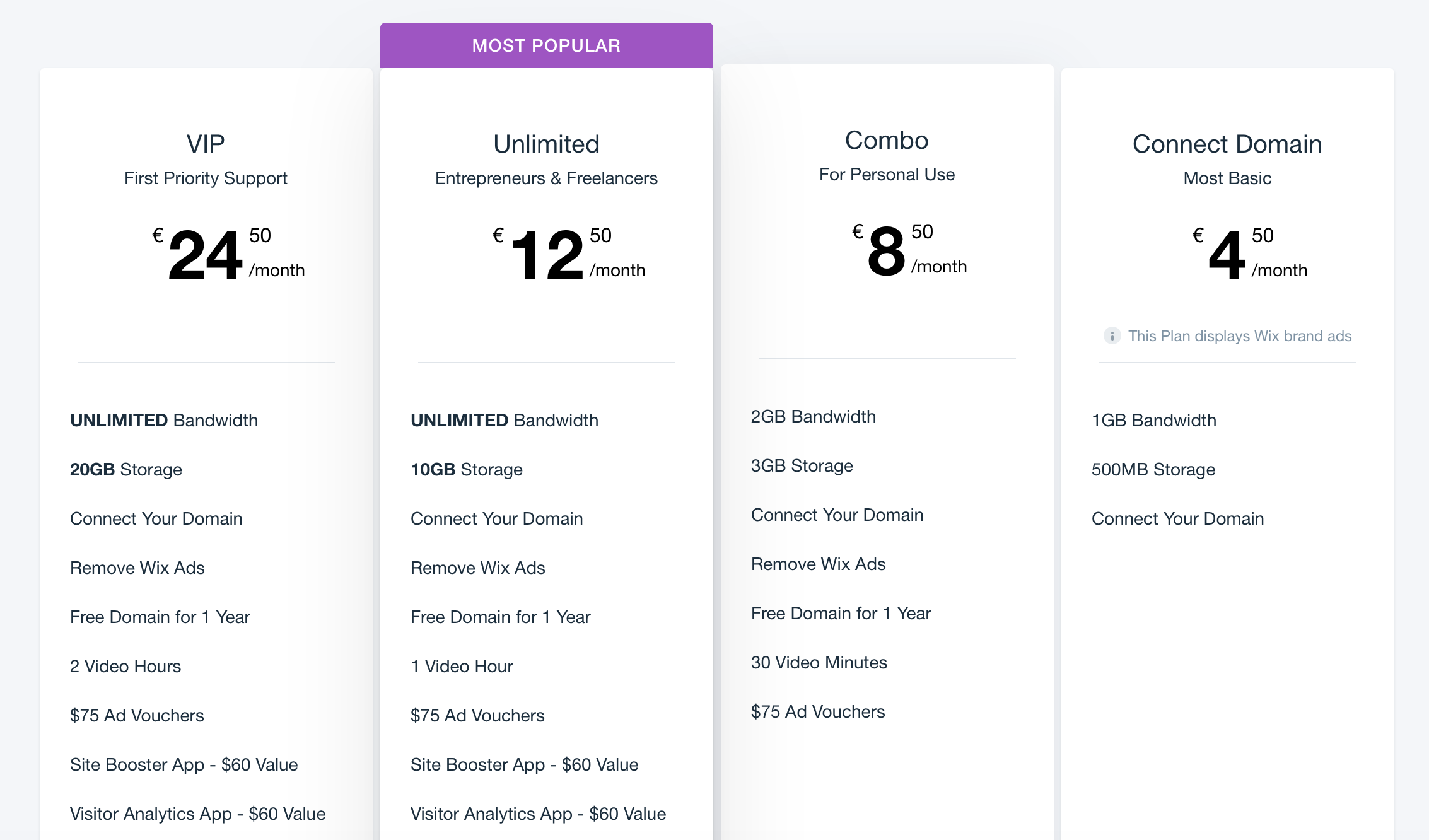 What does WordPress cost? WordPress itself is free, but there are some other costs, which you don't see if you use Wix. For example, you have to pay a recurring fee for web hosting. A web hosting solution that's equal to Wix, should cost somewhere between 5 USD – 15 USD per month.
So, if you choose a cheap web host, you can get a cheaper monthly cost with WordPress, but if you choose on the basis of quality and you can pay a little more, WordPress will be more expensive than Wix. Here at Templ, we offer a premium web hosting service for WordPress with very extensive support and start at SEK 258 per month.
What's your goals for your website?
One question you should ask yourself before choosing a platform is; what are my goals for my website?
Is it to look good, be mobile-friendly, appear on Google, and manage to handle a small amount of traffic without it crashing? These are three reasonable goals and the fact is that both WordPress and Wix can help you achieve these. Below we have listed four possible goals and selected the most suitable option for every goal. Hopefully, you have one or more of these goals and can start to lean on which of the platforms to choose.
I want my website to load lightning fast – Our suggestion: WordPress. To make your website as fast as possible, you must have the opportunity to choose a good web host, as well as be able to optimize your website as much as possible, which WordPress allows you to do. With Wix, you do not have the opportunity to influence your hosting solution or optimize your website as much as you can in WordPress.
I want my website to be easy to maintain – Our suggestion: Wix. With Wix you do not need to update your software yourself, you can leave the website, and expect it to work anyway. If you use WordPress, you should update WordPress and plugins regularly to avoid complications.
I want as much traffic as possible – Our suggestion: WordPress. If you have grand plans with your website and actively want to work to get as much traffic as possible, we recommend WordPress. With WordPress, you have the opportunity for more detailed search optimization, which can increase your traffic from search engines. With WordPress, you also have the ability to scale your hosting solution and ensure that your website continues to load quickly, no matter how many visitors you have.
I want to launch my website as soon as possible – Our suggestion: Wix. If you have not worked with WordPress before, Wix has a lower threshold. It's not at all impossible that you can launch your website within a week if you are active. Getting started with WordPress takes a little longer if you are completely inexperienced, but if you are willing to put add another few weeks into it, WordPress is also a good option for you.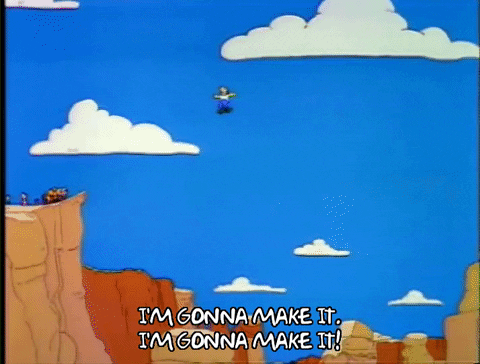 When should you choose WordPress?
You like to have many options and don't want to be locked into a limited selection of features and design templates
You want to make your website as fast as possible
You have high ambitions and want your website to able to receive large amounts of traffic
When should you choose Wix?
You are eager to get started and want to launch your website as soon as possible
You have no prior knowledge of WordPress or programming
You want a time-efficient solution that you don't have to maintain
Final words
Both WordPress and Wix are good choices for anyone who wants to create their first website, whether it is for private use, or if it is a business site. We hope that, after reading this guide, you have enough flesh on your bones to make your choice.
If you have questions about any specific functionality or would like to check out other things with us, you are more than welcome to leave a comment or write in our chat. Good luck now!